NDIS: National Disability Insurance Scheme
The National Disability Insurance Scheme (NDIS) is a new way of supporting eligible Australians living with a permanent or significant disability.
The NDIS gives eligible participants an invaluable opportunity to build their skill sets for everyday tasks, purchase NDIS consumable products such as continence, nutrition and wound care products, and provide access to in-home care services or re-join the workforce.
To see if you or someone you provide care for is eligible to become an NDIS participant, please visit the NDIS website. 
As an NDIS participant you will initially work with a Support Coordinator to create a custom plan based on your needs or the needs of someone you provide care for.
This NDIS plan will be used to help identify and achieve your goals, whether they be securing a job, joining a social group, or arranging and paying for products and personal care to assist in everyday life.
Independence Australia is a registered National Disability Insurance Scheme  (NDIS) service provider and we are here to assist you throughout your NDIS journey.
For eligible Victorian residents, Independence Australia offers full support packages including assistance with support coordination. For more information on our Victorian in-home supports, please complete our online NDIS enquiry form.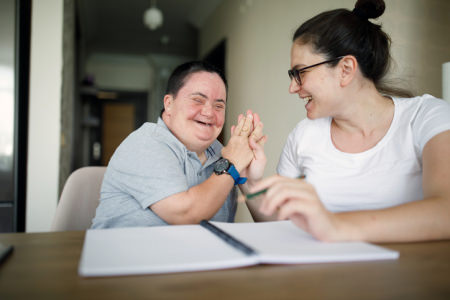 Access NDIS Consumables Online
For eligible NDIS participants , Australia-wide, Accessing NDIS consumables online has never been so easy. Independence Australia's new online store enables you to use your NDIS funding to purchase NDIS consumables online. For more information, please see our Accessing NDIS Consumables page.
For eligible NDIS participants, Australia-wide, Independence Australia is a leading supplier of healthcare products and mobility aids. We've got you covered with a wide range of NDIS consumables and supports, as outlined in your NDIS package. Independence Australia offers three convenient ways to shop using your NDIS funding.
For detailed information on what NDIS consumables are and what's included, please see our NDIS Consumables page.
More NDIS advice?
Looking for more NDIS information and tips? Check out our wide range of resources on what you can achieve with your NDIS plan.
Planning a budget as an NDIS participant during COVID-19 As the year has unfolded, many additional financial concerns have arisen for Australians. For those living with a disability, who rely solely or even partly on access to funding, a tough financial climate can...